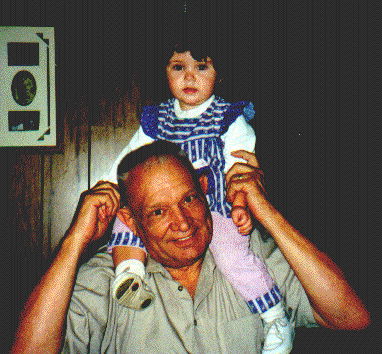 DeVere & Jessie

Marion Manning WINDOW TO THE PAST
by Peggy Smith Hake
Marion J. Manning was born 22 Feb 1851 in Missouri and died 21 Aug 1881 in Saline township at the age of 30 years. In the MILLER COUNTY VINDICATOR, published in August 1881, I found only a brief notice of Marion's death, which stated "Died---Marion Manning of the Sand Hill Congregation". He was one of 12 children born to Smith and Frances (Litzenby) Manning, natives of North Carolina and Tennessee, respectively. His Manning ancestors came to America from England, probably in the late 18th century. There were several Manning families in Halifax and Newbern counties of North Carolina in the first American census, taken in 1790. Some moved on to Tennessee, settling in Cocke and Claiborne counties of East Tennessee.
Sometime about 1830-32, Smith Manning married Frances Lizenby in Tennessee and their two oldest children, John and James, were born there before they made a move to Moniteau Co., MO c/1836. It was in the extreme northwest corner of today's Saline township of Miller County. The following are the 12 children (11 sons and 1 daughter) born to Smith and Frances Manning: JOHN MANNING b. c/1833 TN; JAMES H. MANNING 1836-1884 TN; ROBERT MANNING b. 1839; WILLIAM MANNING b. c/a841; LUCY JANE MANNING b. c/1843 m. David B. Taylor; THOMAS B. MANNING 1843-1873; CONSTANTINE MANNING 1846-1909; GEORGE W. MANNING b. c/1849; MARION J. MANNING 1851-1881; PHILLIP M. MANNING 1853-1888; FRANCIS S. b. c/1856; and ALBERT C. MANNING b. c/1858.
Phillip M. Manning was a doctor at Olean in the 1880's; Francis S. Manning was a doctor at Versailles and youngest brother, Albert Manning, was a druggist at Spring Garden during the same years. George W. Manning was an early-day schoolteacher in the northern section of Miller County. In the 1880's there was a school located near the Manning farm and was called by two different names----Black Oak Grove School and Manning School. During the school years 1881-83, George Manning taught this country school.
In the news item of 1881, telling of Marion Manning's death, it stated he was "of the Sand Hill congregation". There was a school called Sand Hill School #1 located in the near vicinity of the Manning family, so I would imagine there was also a church by the same name and the Manning family may have been attending it at the time of Marion's death. The name Manning remains in the same area today with two roads having the name "Manning"....Manning School Road and Manning Drive.
There is a cemetery northwest of Eldon called Manning Family Cemetery. It is located near State Route CC. The following are the names of Manning family members buried in the old cemetery:
MANNING, Smith 1808-1878
Frances 1815-1899 wife of Smith
James H. 1836-1884
Thomas B. 1843-1873
Phillip 1853-1888
Marion J. 1851-1881
Constantine 1846-1909 (all 5 men were sons of Smith & Frances Manning)

The Miller County Vinicator
by Peggy Smith Hake
I thought I would print some news items from the past that appeared in an old Miller County newspaper called "The Miller County Vindicator", which was published in 1881. I certainly enjoy reading these old newspapers. If I can learn something about the people who lived in the county during those years, then it is like putting "icing on the cake".............These newspapers were printed every Friday morning at Tuscumbia by the editors, Tomson and Wright...............
From: THE MILLER COUNTY VINDICATOR
Volume 3 No. 27, 12 August 1881
NEWS AND NOTES:
1. We can't count on much turnip soup this fall.
2. Mrs. Talbot has been sued for the sum of $1623 by her lawyer for defending her boys.
Note: I have no idea who Mrs. Talbot was....no record found in Miller Co. records
3. The attendance at Elder Workman's meeting, south of the river last Sunday, was good.
One confessing
Note: Thomas Owen Workman was a circuit-riding preacher in the Miller County area
in this time era. I think his meeting was being held at Liberty Church of Christ
which was about 4 miles south of Tuscumbia. It was established in 1867 by
Rev. Workman, Nelson Davis, and T. S. Phillips.
4. Anchor Mills are constantly engaged in sawing and grinding.
5. Ira T. Johnson has fenced in the south side of his store lot, which takes in considerable
amount of old passageway next to the ferry.
Note: Ira T. Johnson, born c/1844 in Ohio, and his wife, Elizabeth (Weitz), were
living in Tuscumbia. Evidently they operated a store near the Osage river
which was located near the old ferry landing.
6. A sign painted on the new fence on the south border of Johnson's lot says, "For
Cheap Goods, Go to Golden's and Company". There's nothing like advertising.
Note: Golden and Company was a competitor to Ira T. Johnson.....He was very
generous to advertise for his competitor!
7. John Paul Beudler, near Charlestown, John Henry Township, was stricken down
by sunstroke while hauling water last Sunday. At last account, he was still living.
Note: This was John Paul Beutel, a native of Germany, who came to America in
1867. He settled in Charlestown (today's St. Elizabeth) and he survived this
sunstroke because he lived until 1901.
8. Wells are going dry on the hill (Tuscumbia).
9. Elder J. J. Lane will commence a protracted meeting at Salem on the first Sunday
next month.
Note: Elder Lane must have been a circuit-riding preacher who did not live in
Miller County. I could not find him in any census record. Salem Church
was in Saline township, north of Eldon.
10. The railroad surveying party has passed about 2 miles north of Mt. Pleasant. They
camped Tuesday night at the widow Roark's.
Note: The railroad was not built north of Mt. Pleasant but ran about ½ mile south of
the town.......I do not know which lady was "the widow Roark". Two ladies
lived in the area named Roark and both were widows......one was Candace
Roark, age 66, and the other was her daughter-in-law, Leah Roark. Leah was
the widow of Yancy Roark, one of the Civil War soldiers killed in the
massacre on Curtman's Island, located on the Osage river.
11. There is trouble among the brewers in St. Louis. Some of them voluntarily reduced
the price of beer from $2 to $1.75 per keg and others, though objecting, are
compelled to do the same.
12. Jordan Bowers was divorced at Rolla the other day and in less than 15 minutes, he had a license to remarry..............
Recent Marriages in Miller County in 1881 (July and August)
1. July 28, 1881---Andrew J. Colvin married Eliza Wyrick at the residence of the
bride's father. Esquire Pittsford officiated.
Note: Eliza was a daughter of Nathaniel and Elizabeth (Hix/Hicks) Wyrick
who were living in Saline township. I believe Esquire Pittsford was
actually named Pitchford.
2. July 31, 1881----Last Sunday at 4 p.m., Mulligan Sullivan married Nannie
Lupardus, at the home of the bride's father, by Esquire John S.
Wilson.
Note: Nannie/Nancy was the daughter of Peter B. & Joanna (King) Lupardus who
lived in Osage township in 1880. Mulligan Sullivan (isn't that a strange
name?) was living in the home of Charles and Isabelle (Skinner) Clarke at
Tuscumbia during the census of 1880.
3. August 3, 1881---George Barton married Mary Ann Casey at the home of the
bride's father, by Esquire John S. Wilson, all of Miller County.
Note: George was a son of Bentley and Elizabeth Barton and Mary Ann was a
daughter of Zadoc and Sarah (Castleman) Casey, all of Richwoods
township.
4. August 4, 1881....David Bear married Mary S. Winfrey at the home of the bride's
father, by Esquire John S. Wilson, all of Miller County.
Note: David Bear was a son of George and Elizabeth Bear of Equality township
and I am not sure who the parents of Mary Winfrey were (perhaps
William and Christina Winfrey of Glaize township).

More From the Vindicator
by Peggy Smith Hake
From: THE MILLER COUNTY VINDICATOR, dated 27 May 1881, Vol. 3 #16
Esquire John Ferguson, of Iberia, is painting Mr. Robinson's new office.
Note: Squire John must have been painting the new law office for Theodore B. Robinson
in Tuscumbia.
Mr. Hoover and two daughters of Big Gravois, called to us Wednesday.....
Note: Charles Hoover lived in Franklin township and had 4 daughters listed in the 1880 census
John R. Thompson, Edward Kallenbach, and 'D' Berry went to Aurora Springs Sunday.
Note: Aurora Springs was a thriving resort/health center in Miller County in the 1880s.
It had mineral springs that were supposed to keep you young and healthy.
Look out for the speciman copy of a new paper, edited and published by William T. Tomson.
Note: The name of the new paper was not given. I don't know if it existed for very long.
Edward Burks and family, of Hickory Point (Richwoods township), visited his sister, Mrs. Robinson, on Wednesday.
Note: Theodore B. Robinson married Parthena Burks McCarty in 1870. She was the widow
of Gordon McCarty.
The new railroad is being pushed ahead with some vim. Several hundred hands employed.
Iberia has a reading room, but it is of a different nature to the one recently closed at this place (Tuscumbia), being supplied with good books instead of liquors.........
Samuel Moody, of Flatwoods (Franklin township), desires a letter from his brother in Greystone, Kansas. He has written to him several times and received no reply. Address is: Samuel Moody, Tuscumbia, MO
They are going to build a church at Hancock. Nearly $400 raised the past week.
Note: Hancock, once called Iron Summit, was located in Pulaski County.
John B. Stone, of the Church of Christ, preached at Hickory Point last Sunday and administered baptism to three candidates.
Note: John B. Stone lived north of Iberia and came to Miller County from Barren Co., KY in
the 1840s. He married Susan Samantha Bailey, daughter of Julius and Lucinda
(Anderson) Bailey, who were also from Barren County, KY.
May 15 was generally observed throughout the South by decorating graves of the Confederate dead.
PUBLIC NOTICE: Owing to an impression that the grand jury would return indictment against Sunday saloonists, the liquor and cigar stores in Jefferson City were closed last Sunday.
NEWS THAT WAS 'SHORT AND TO THE POINT'.........
Health is good in town
Remember the preaching tonight.
Music in the woods by the bush-full.
Prospect for wheat is fine in this county.
We've not seen any ripe strawberries this spring.
The showers are scattering.
Crops look well between here and Iberia.
There are millions of locusts in the woods.
A refreshing shower at Iberia.
The purest water runs from the hardest rock.
PROFESSIONAL CARDS.....(Advertisements)
1. E(lias) W. Swalem, Attorney at Law, Tuscumbia
2. Jacob Gantt, Attorney at Law, Tuscumbia
3. T(heodore) B. Robinson, Attorney at Law, Tuscumbia
4. Dr. S(amuel) P. Hickman, Physician, Brumley
5. Dr. J(ohn) L. Conner, Physician, Brumley
6. Daniel Cummings, Notary Public & Land Agent, Tuscumbia
7. I(saac) M. Goodrich, Notary Public & Land Agent, Tuscumbia
8. Mrs. Mary E. Semple, Milliner & Dressmaker, Pleasant Mount

===========================================
Napoleon Bonaparte Wood.........
Napoleon Bonaparte Wood was born in Kentucky circa 1830 and came to Richwoods township, Miller County, MO, bout 1851-52. He and his wife, Lucy M. Wood, evidently had lived in Texas before coming to central Missouri.
Their first child, Mary A. Wood, was born in Texas c/1850. Their other children were all born in Missouri including: George Wood b. c/1853; Louis A. Wood b. c/1862; and Jonathan A. Wood b. c/1866.
In the census of 1860, there was a female, Nancy C. Wood, age 14, living in their household. I do not know if she was a daughter, sister, or neice to Napoleon. Nancy married James M. Lovell/Loveall in Miller County on 30 Dec 1869.

THE FAMILIES OF KEMPKER AND KIRKWEG...............
John Herman Kempker m. Gertrude Kirkweg on 24 March 1900 in Miller County, Mo. The marriage was performed by Charles J. Putz, Catholic Priest.
John Herman Kempker was a son of John Herman Kempker Sr. (1834-1914) and Anna Gesina Borgmann (1841-1908), both born in Holland. According to records found, John Herman Sr. was born near the town of Van Sweetin, Holland. The children of John Herman and Anna Gesina (Borgmann) Kempker were:
1. John Bernard Kempker 1867-1938 m. Mary Elizabeth (Hake) Lepper in 1889
(He was born in Holland) (She was the widow of Stephen Lepper)
2. John Herman Kempker 1870-1923 m. Gertrude Kirkweg 24 Mar 1900
3. John Henry Kempker 1873-1965 m. Sophia Lepper 1898
4. Mary Margaret Kempker b. 1874 m. Joseph Busche 1894
5. Anna Adeline Kempker b. 1876 m. Gerhard/George Hake 1897
6. Gerhard/Geo. Kempker 1879-1958 m. Agnes Mary Mormann 1904
7. Mary E./Mamie Kempker 1882-1966 m. Frank M. Groose 1905
John Herman and Anna Gesina (Borgmann) Kempker came to America about 1868 when their oldest son, John Bernard, was about a year old. They settled in Cole County, MO near the small town of Taos. Bernard Heinrich/Henry and Anna M. Kempker, the parents of John Herman, also came to America as well as his two brothers (John Bernard and John Henry). They all settled near each other in Cole County.
John Herman Kempker (1870-1923) came to Miller County where he married Gertrude Kirkweg on 24 March 1900. Her Kirkweg family lived east of the Osage river in the St. Elizabeth area. The children of John Herman and Gertrude included:
1. Francis/Frank Kempker b. 1902 m. Coelista Lootens 1926
2. Stephen Kempker b. 1904 m. Mathilda Levan 1927
3. Catherine Kempker b. 1907 m. Richard Schulte 1929
4. Mayme Kempker b. 1911 m. Francis Schulte 1931
5. Bernard Kempker b. 1911 m._________________
(twin to Mayme)
6. Emma Kempker b. 1913 m. Hubert Schmidt 1935
7. Regina Kempker b. 1918 m. Victor Morff 1939
8. Elizabeth Kempker b. 1921 m. Norbert Gerling 1946
NOTE: I am not sure if all the marriages shown for the children of
Herman and Gertrude are correct. I tried to determine them
from the Marys Home History Book.
Most of the family of John Herman and Gertrude (Kirkweg) Kempker are buried at Our Lady of the Snows cemetery in Mary's Home.
THE KIRKWEG FAMILY..................
William Kirkweg was born in Germany in March 1843. He married Katharina/Katie (maiden name not found) about 1869. He came to America just a year or two prior to his marriage. Katie was born in October 1843. She was also a native of Germany. They lived in the St. Elizabeth area of Jim Henry township in 1900.
William and Katie were parents of at least five children including:
1. Henry Kirkweg 1870-1956 m. Katherine Mormann 1895
2. Bernard/Ben Kirkweg 1873-1936 m. Barbara Bax 1916
3. Gertrude Kirkweg 1878-1953 m. John Herman Kempker 1900
4. William B. Kirkweg 1881-1962 m. Elizabeth Dubbert 1910
5. Anna B. Kirkweg 1884-1966 m. Henry Bernard Nilges 1910
In the census of 1900, William and Katie were living near St. Elizabeth with 3 of their children still living at home (Bernard/Benny, William, and Anna). The oldest son, Henry and his wife, Katherine (Mormann) were living next door to them with two children in their home---Agnes age 2 and Joseph age 2 months. Oldest daughter, Gertrude, had married John Herman Kempker just a few months earlier and they were living in the Marys Home area near the other Kempker families.
NOTE: I was not able to learn very much about the Kirkweg families. They were not in the Miller County census of 1880 so must have come to the St. Elizabeth area during the time period of 1880-1900. They may have been in Cole County prior to 1880 or perhaps in the German communities in Osage County.

John F. Barr
by Peggy Smith Hake
John F. Barr was born 7 November 1833 and died 20 January 1898. He married Ellender/Eleanor Wilson on November 16, 1856. Ellender was born on March 15, 1835 and died May 9, 1920.
John F. Barr was the youngest son of Margaret Barr. At this time I have not found the name of his father. Margaret Barr and her 8 children were living in Miller County as early as 1840. She was listed in the census of 1840 living in Equality township, south of Tuscumbia, near the families of Nicholas, Martin, McComb, Cotten, and Davis. I believe her children (all born in Tennessee) were the following: Mary Ann Barr b. c/1823 m. Andrew J. Roberts; Joseph Evans Barr b. c/1832 m. Malinda Catherine Green; John F. Barr b. 1833 m. Ellender Wilson; Jesse C. Barr m. Malinda_______; Martha Malinda Barr m. Napoleon Bonaparte Earp; Malissa Barr m. Josiah Roberts; and Frances Barr m. Stephen Roberts.
John F. Barr married Eleanor/Ellender Wilson in November 1856. The marriage was conducted by William Scott, a justice of the peace. John and Ellender moved close to the Richwoods/Osage township line near present-day St. Anthony. In 1860, they were living near the families of Hicks, Blize, Kinworthy, Duncan, Shelton, Humphrey, and Grady. Over the years they became parents of at least 7 children including: Joseph/Josiah B. Barr 1856-1937 m. Rhoda Shackelford 1886; Sarah J. Barr 1859-1936 m. George Andrew Golden 1876; Edmond Alexander Barr b. 1862 m. Sarah Elizabeth Pendleton 1886; Margaret Elizabeth Barr b. 1865 m. James L. Bilyeu 1881; Alice Barr b. 1867 m. Jesse W. Burks 1900 (she was his 2nd wife); Malissa Eliza Barr b. 1870 m. Stephen Helton 1888; and John F. Barr b. 1872 m. Sarah Elizabeth Bailey 1897.
John F. Barr died on January 20, 1898 at the age of 65 years. He was buried at Hicks Cemetery near St. Anthony. Ellender Wilson Barr remained his widow for 22 years and died on May 9, 1920 and was buried beside John at Hicks Cemetery which is located today on the farm of Herbert Otto..
OBITUARY OF ELLENDER WILSON BARR---printed in the Miller County Autogram, dated 27 May 1920..........Ellender(Eleanor) Wilson Barr was born 15 March 1835 and died 9 May 1920 at the home of her daughter, Mrs. Elizabeth Bilyeu. She was 85 years old. Her death was due to dropsy. She married John F. Barr before the Civil War in 1856. Mr. Barr died 22 years earlier in 1898. She united with the Christian Church at an early age. Her surviving children were Mrs. George Golden (Sarah), Mrs. Elizabeth Bilyeu, E. A. (Edmond Alexander) Barr, Mrs. Jesse W. Burks (Alice), John Barr, Mrs. Stephen D. Helton (Malissa Eliza) and Joseph Barr. She was buried in Hicks Cemetery near present-day St. Anthony.
NOTE: I'm not sure who Ellender's parents were but suspect they were William Alexander Wilson and Mary/Martha Smith. I think they had at least 6 children including: Eliza Wilson b. c/1834 m. William Z. Burton; Eleanor/Ellender Wilson b. 1836 m. John F. Barr; Sicily Wilson b. c /1840 m. William C. Brumley; Alexander Wilson b. c/1842 m. Polly Ann Martin; William A. Wilson b. c/1844; and Owen Calvin Wilson b. c/1850 m. Matilda Ramsey. If this is not correct, I would like to have more accurate information about Ellender's family.

TUSCUMBIA'S SISTER CITY----TWINS IN HISTORY
On the banks of the gently flowing Tennessee River, in northwestern Alabama, sits a lovely little city named Tuscumbia. Her history extends backward in time to the 18th century when a French colony established a trading post at the mouth of Spring creek near present-day Tuscumbia. They traded with the Cherokees and Creek Indians of the region....the Chickasaw tribes were also nearby.
The history of Tuscumbia, Alabama and Tuscumbia, Missouri are so near the same, it is almost bizarre, expecially when you realize they are the only towns in America which bear the same unique Indian name.
Both towns came into existence when pioneers moved westward on the American frontier in the early 1800s. The first white settlers arrived at a big spring after traveling on a river....they found friendly Indian villages and began to trade with them....the settlements grew as trade began to expand on the river....the two towns had river landings that became major river ports.
Both of the counties, in which the two towns of Tuscumbia were located, were formed from larger counties named Franklin (Miller Co. was once a part of the huge land mass that belonged to Franklin County when Missouri was only a Territory).......Both towns became seats of government when the new counties formed and have remained so over the many years.
The name Tuscumbia mean..."Warrior Who Kills" in the Chickasaw language and both towns were named for the Chickasaw Indian chief named Tuscumbia. It was originally spelled 'Taska-Ambi'. In the area of both towns are streams of water named Bear creek, Little Bear creek, and Dry creek.
The first settlers in Tuscumbia, Alabama was the family of Michael Dickson....Among Miller County's earliest settlers and merchants was a man named William P. Dixon/Dickson, whom historians say gave Tuscumbia, MO it's name.....Michael Dickson of Alabama was elected Clerk of the County Court in Franklin Co., AL and served 16 years. Wm. P. Dixon was the Clerk of the County Court and Circuit Court of Miller County, MO for 16 years........Mt. Pleasant was a trading area of early settlers in the area surrounding Tuscumbia, Alabama and Mt. Pleasant was the hub of activity of early trade in Miller County, Mo with Wm. P. Dixon being a merchant there ...............
It was on the 6th day of February 1837 that Miller County, MO was formed....On the 6th day of February (1867) Colbert County, AL was formed from Franklin Co., AL.....Both towns of Tuscumbia remain county seats of government in their respective counties to this day.
NEEDLESS TO SAY, THE HISTORY OF THE TWO TUSCUMBIA'S SEEM TO HAVE BEEN CO-WRITTEN FROM THE SAME ORIGINAL MANUSCRIPT ! ! !
There are some differences in the two towns, as you might expect...Tuscumbia, AL was the site of America's first frontier railroad west of the Appalachian Mountains, called the Tuscumbia Railroad Co. and formed in 1830. It remained the center of wealth and culture before the Civil War and is one of the oldest towns in Alabama. Tuscumbia, MO never had a railroad through its town, but depended on the river traffic for imports and exports. Today, both towns have neither their railroad nor river trade in existence.
Tuscumbia, Alabama has a population of approximately 9,000 while Tuscumbia, Missouri's population is less than 500.
The Alabama town is the birth place of Helen Keller, America's "First Lady of Courage" (1880-1968). Heinie Manush, a famous American from the sports world, was also born in Tuscumbia, AL . He was a professional baseball player who is in the Baseball Hall of Fame at Cooperstown, NY. I can't recall any famous Americans hailing from Tuscumbia, MO, but I am sure we feel that our Tuscumbia natives are also special folks!
In 1991, I corresponded with Frank Ritchey, a teacher of history in the Tuscumbia, Alabama school system. His class was very interested in their "sister city", Tuscumbia, MO. Frank sent me a book called TUSCUMBIA, ALABAMA: AMERICA'S FIRST FRONTIER RAILROAD TOWN. I have donated this fine book to the Miller County Historical Society research library at Tuscumbia...............

Myrtle Effie Blankenship
by Peggy Smith Hake
Myrtle Effie Blankenship was born 28 Oct 1877 in Miller County, MO. Her parents were Joel R. Blankenship (1850-1917) and Mary Josephine Shockley (1853-1939). She was one of seven children born to the Blankenships including: John Blankenship b. 1874 m. Emma Hensley; Myrtle Blankenship b. 1877 m. Albert D. Vaughan; Gertie Blankenship b. 1885 m. Oscar Jarrett; Floy Blankenship b. 1888; Nellie Blankenship b. 1893 m. Jasper Lewis. Two children died in infancy.
On December 28, 1893, at the age of 16 years, Myrtle married Albert D. Vaughan. Since she was only 16 years old, the consent for their marriage was given by her father, Joel R. Blankenship. Their marriage was performed by John H. Aust, a minister of the gospel in Richwoods township.
Albert D. Vaughan was the only child of John B. Vaughan (1836-1872) and Mary Elizabeth Cooper (1852-1919) who were married In Miller County on March 16, 1871. Albert was only one year old when his father died in 1872. Mary Elizabeth Cooper-Vaughan married Benjamin F. Hensley in December 1876 and they had two daughters who were half-sisters to Albert. They were Nevada/Levada J. Hensley b. 1880 m. Charles Berry and Orpha M. Hensley b. 1877 m. Fred Berry.
In the census of 1900, Albert and Myrtle were living near her Blankenship family in Richwoods township. They had been married for seven years and had become parents of three children, but only one survived. Over the next few years they had ten more children. The thirteen children were: Jasper C. Vaughan (1895-1895); Victor Vaughan (1896-1898); Orpha Vaughan 1899-1975 m. Alvis James; Eura Vaughan 1901-1968 m. Orpha Gardner; Delphia A.Vaughan 1904-1948 m. Jack James; Dorothy A. Vaughan 1906-1906; Joel R. Vaughan 1907-1907; Pearl G. Vaughan 1908-1922; Lillian Fern Vaughan 1911-2001 m. Jeptha T. Powell; Thelma Vaughan m. Donald Brooker; Lorene Vaughan 1921-2002 m. Virgil Morrow; and Norma V. Vaughan 1920-1920.
Myrtle Effie Blankenship-Vaughan died on June 27, 1945, almost reaching her 68th birthday. She was survived by her husband, Albert Vaughan (to whom she had been married for 52 years); 6 children; 13 grandchildren; 2 great grandchildren; a brother, John Blankenship and 2 sisters, Mrs. Oscar Jarrett (Gertie) and Mrs. Jasper Lewis (Nellie). She was buried at Livingston cemetery beside seven of her children who had preceded her in death. Albert D. Vaughan lived until 1955 when he died at the age of 84 years. He was buried beside Myrtle at Livingston.
Note: A correction for last week's story of Myrtle Effie Blankenship-Vaughan:
Myrtle and Albert Vaughan had a son named Dale B. Vaughan who was
born in 1914 and died in 1941. I am sorry for the omission of Dale's name
in the article. He is buried at Livingston Cemetery.
=============================================================

WINDOW TO THE PAST
by Peggy Smith Hake
FROM: The Miller County Autogram.....Feb. 25, 1926
WILLIAM BAILEY DIGS OWN GRAVE
"Wm. Bailey, who was buried at Livingston Cemetery last week, had his grave prepared two years before his death. He dug the grave himself in anticipation of his demise. He died at the county poor farm conducted by Mrs. Jennie Wyrick. Arrangements were being made to bury him at the Mt. Zion cemetery and a grave was partially dug when someone brought the information that his grave was dug at the Livingston Cemetery.
William was eccentric, but was a harmless and hard-working man. He realized that death was certain and unlike most of us, he prepared for death two years before it overtook him."
I remember my aunt once telling me about a man called William/Willie Bailey who wandered around the countryside acting rather strangely at times but was harmless. She said the one thing she could remember about him was that he could be seen walking down a road in the summertime wearing a coat, gloves and cap......Folks would ask him why he was wearing all those heavy clothes on a hot day......His reply was, "What keeps out the cold in the winter, should keep out the heat in the summer"!
I think this may be the same man whose notice of death appeared in the February 25, 1926 issues of the Miller County Autogram..........I think I may have found out who William Bailey was by researching in old Miller county records.
William Bailey, born in December 1869, was a son of Julian Bailey and Matilda Smith. His parents married on July 19, 1868 in Miller County. Their marriage was performed by Thomas O. Workman, a minister of the gospel. There were two other children born to Julian and Matilda: SOPHRONIA BAILEY born c/1871 and JULIA M. BAILEY born c/1875. I do not know what happened to Julian Bailey because by 1880, Matilda (Smith) Bailey and her three children were living with her mother, Nancy (Stinnett) Smith. They were living in Richwoods township, north of Iberia near what is known as the Hickory Point/Livingston Cemetery vicinity.
I could find no other record for Matilda nor her two daughters after 1880. I suspect that Matilda may have died before 1900 and perhaps the two young girls did not survive either. In 1900, William Bailey, age 30 years (born Dec. 1869), was living in Saline township in the home of Harvey and Hattie Sutton. He was listed as a servant in their home, which was in the eastern part of Saline township in what was recorded as the Greenridge area.
After reading the notice of William's death, it appears he may have had no family left and was being taken care of on the "county's poor farm" which was operated by Mrs. Jennie Wyrick . In 1926, I am not sure where the "poor farm" was located but I am sure it was in Equality township, near Tuscumbia. It is my understanding that the Miller County Court hired people to take care of the aged and the indigent in their own homes until about 1930-31. The Court decided at that time to buy a farm and have a "County Home" built. A large, brick structure was built when the Miller County voters passed a tax levy in 1930. It was located on the south side of Highway 17 about 3 miles south of Tuscumbia. It was torn down a few years ago after the Miller County Nursing Home was built on the same grounds.
Unfortunately William Bailey does not have a gravestone to mark the place in Livingston Cemetery where he dug his own grave about 1924......as the article said, he dug it two years before he needed it.............I can only speculate, but perhaps he walked from the "county poor farm" near Tuscumbia to Livingston Cemetery on several occasions, wearing his coat, gloves, and hat, in order to get his burial site dug and put in order!

Pricilla West
by Peggy Smith Hake
Priscilla Jane West was born 31 January 1837 in Bond County, Illinois. She was a daughter of John W. West (1812-1890) and his first wife, Sarah/Sally Smith who married in Bond County in August 1832. Sally Smith West died before 1846 because on July 22, 1846, John West married his second wife, Cynthia M. Warrill. John W. West was a Primitive Baptist preacher in central Missouri. John and Sally West were parents of several children including Priscilla Jane West b. 1837; James M. West b. c/1840; Thomas W. West b. c/1841; and Mary E. West b. c/1843. John and his second wife, Cynthia, had at least 3 children (perhaps more) and they were: Sarah M. West b. c/1848; Alzada West b. c/1853; and John West b. c/1859.
In 1853, Priscilla Jane West married James Anderson Stone of Miller County. There is no record of their marriage in the county records so, at this time, I do not know where the marriage occurred. James Anderson Stone was a son of John B. Stone and Samantha Martha Bailey, both natives of Barren County, Kentucky. They married in Barren County in March 1830. Samantha was a daughter of Julius C. Bailey and Lucinda Anderson. The children of John B. and Samantha (Bailey) Stone were: MARY STONE ; DELANEY STONE (d. at age 4 years); JAMES ANDERSON STONE 1835-1863 m. Priscilla Jane West 1853; JULIUS C. STONE 1834-1920 m. Elizabeth Anderson 1858; LUCY STONE m. William J. Murphy 1857; JONATHAN B. STONE 1943-1897 m. Dulcena A. Murphy; SARAH JEMIMA STONE m. James Greenwood 1869; KINSEY STONE m. Permelia Angeline Smith 1867; and SUSAN SAMANTHA STONE m. Isaiah R. Bailey 1867.
James Anderson Stone entered the Civil War as a Confederate soldier and fought in battles in Missouri and Arkansas. He was killed at the Battle of Helena, Arkansas on July 4, 1863 at the age of 29 years. He left Priscilla alone with 5 young children to rear and her life was a real hardship during those years. Some of their descendants have had family legends handed down that have been preserved. Because James was a Rebel soldier, his family had to undergo harassment at the hands of the Union troops. They came to Priscilla's farm home asking for food and made her fix meals for them. When they left, a cow or calf was taken along and they would also take anything else that was on hand. Later, the soldiers burned her barn and she was afraid they were going to burn her home (which they did later!).....She moved to another place, probably north to Cole County, near Russellville, where she spent the rest of her life.
Priscilla West Stone never remarried but spent the remainder of her life (53 years) as the widow of James Anderson Stone. They were parents of five children: ELIZABETH J. STONE b. 1855 m. (1) William L. Jenkins 1870 (2) Samuel H. Sone 1885; LUCY ELLEN STONE b. 1857 m._____Bragg; JOHN WILLIAM STONE b. 1859 m. Mary Eliza Shadwick; JAMES T. STONE b. 1861 m. Nancy E. Boan ; and ROBERT PRICE STONE 1863-1941.
Priscilla West Stone died at the home of her oldest daughter, Elizabeth Stone Sone, in Jefferson City in August 1916 at the age of 79 years. She was survived by 4 of her 5 children. John William Stone had preceded her in death. Surviving were Mrs. Elizabeh J. Sone of Jefferson City; James T. Stone of Jefferson City; Mrs. Lucy Ellen Bragg of Hannibal; and Robert Price Stone of Eldon; 19 grandchildren and several great grandchildren. She was a member of the Big Rock Church in Morgan County at the time of her death and had earlier been a member of the Primitive Baptist Church. She was buried at Riverview Cemetery in Jefferson City.
NOTE: Robert Price Stone, the youngest son of James and Priscilla, was an attorney who practiced law in Joplin, MO and later came to Eldon, MO where he opened a law office. In the Democratic landslide election of 1932, Robert Price Stone became Miller County Prosecuting Attorney and served one term. He was 69 years old when elected as Prosecuting Attorney. Robert Price lived until 1941 when he died at the age of 78 years and was buried in the Eldon Cemetery.

THE FRAZIER/FREEMAN FAMILIES............
Sometime between 1862 and 1867, Andrew Jackson Frazier moved to Miller County from Pettis County, MO. While in Pettis County, Andrew and his first wife, Jennie, became parents of a son, Francis Marion Frazier, born 2 August 1862. Five days later, on August 7, Jennie died from childbirth complications.
After Andrew moved to Miller County he married Mary Freeman on April 23, 1867. Their marriage was performed by John Bear, a justice of the peace in Equality township. In the Miller County census of 1870, Andrew and Mary were living in Equality township near the families of Martin, Smith, Horton, Cooper, Umstead, Wyrick, Barton and Weitz. In their home were three children and 2 more were born before 1880. The children included:
1. Francis Marion Frazier b. 1862 Pettis Co., MO
2. Amelia Elizabeth Frazier b. c/1867 Miller Co.
3. Epsey Isabella Frazier b. c/1869 Miller Co.
4. Parilee Josephine Frazier b. c/1873 Miller Co.
5. Augusta J. Frazier b. c/1878 Miller Co.
There is no further record of the Frazier family in Miller County after the 1880 census. A descendant of this family says the family moved to Saline County, MO where Andrew Jackson Frazier died in 1921.
I suspect the second wife of Andrew Frazier, Mary Freeman, was a sister to Andrew Jackson Freeman and James M. Freeman, both of Glaize township. I couldn't find definite proof but all clues seem to point in that direction.
Andrew Jackson Freeman, born in Tennessee, married Editha A. Tinsley in Miller County on Sept. 8, 1857. They lived in Glaize township near the town of Brumley. His brother, James M. Freeman, also born in Tennessee, married Mary M. Golden on January 10, 1861 and they lived in the same area as Andrew and Editha. According to a biographical sketch of William P. Freeman (son of Andrew and Editha) in GOODSPEED'S 1889 HISTORY OF BENTON, COLE, MORGAN, OSAGE, MILLER, MONITEAU AND MARIES COUNTIES, the Freeman family moved from Tennessee in the 1840s and first settled in Hickory County, MO where the father died in 1872.
Andrew J. Freeman came to Miller County in 1857 and settled near Brumley. Shortly after arriving, he married Editha Tinsley. He served in the Union army during the Civil War in Company E, 33rd Regiment, Missouri Infantry Volunteers. Andrew died in 1874 from old war wounds which had caused him many complications. Before his death, he and Editha had five children born to them including: William P. Freeman b. 1858 m. Alice Harris; Lucy E. Freeman b. c/1860 m. William Golden; Paralee F. Freeman b. c/1862 m. James M. Cox; Isabelle Freeman b. c/1866 m. F. Hooker; Armenta J. Freeman b. c/1869 m. Charles C. Hickox; and Dora Freeman b. c/1871.

Daniel Thomas Lee
by Peggy Smith Hake
DANIEL THOMAS LEE was born in Osage County, MO on 9 November 1865, a son of Isaac and Caroline (Glascow) Lee. Isaac (born c/1840) and Caroline (born c/1842) married 5 March 1865 in Osage County. They came to Miller County before 1880 and settled in eastern Richwoods township near the families of Alexander, Kinsley, Thompson, Martin, Jones, Slone, Pankey, and Dake. They were parents of two children: DANIEL THOMAS LEE 1865-1933 m. Dora A. Alexander 1890; and SARAH JANE LEE b. 1867 m. Leroy Pankey 1884, son of Leroy and Elizabeth (Dake) Pankey.
Evidently Sarah (Lee) Pankey was the second wife of Leroy Pankey and they became parents of two children: MARY A. PANKEY b. 1886 and LEFTY A. PANKEY b. 1889. During the census taken in Miller County in 1900, the two children were living with their grandparents, Isaac and Caroline Lee. I would presume their mother had died since they were living in the home of their Lee grandparents.
Daniel Thomas Lee married Dora A. Alexander in Miller County on 16 January 1890. Their marriage was performed by George H. Shepherd, a minister of the gospel. Dora was born 19 August 1874, a daughter of Benjamin Clark Alexander and Elizabeth Ann/Betsy Jones.. Betsy was living with a son, John Alexander, during the 1900 census. The census record stated she was born in October 1829 in Kentucky. The best I can determine, the children of Benjamin and Betsy (Jones) Alexander were: ELIZABETH ALEXANDER b. c/1852; HENRY ALEXANDER b. c/1855 m. Elizabeth_____; JOHN ALEXANDER b. c/1859 m. Martha Lee; ORVIL ALEXANDER 1862-1945 m. Mary E. Cross; SHERMAN ALEXANDER b. c/1865 m. Sarilda Holycross; MELVIN ALEXANDER 1867-1917 m. Mary Ellen Bilyeu; PARADINE ALEXADNER b. c/1871 m. Frank M. Bilyeu; DORA A. ALEXANDER 1874-1953 m. Daniel Thomas Lee; and IDA ALEXANDER b.___m. Wm. T. Morrow.
NOTE: According to the 1900 census, Betsy Alexander, mother of the above children, stated she had 10 of 12 children still living in 1900.
According to the obituary of Daniel Thomas Lee, he became a member of the Christian Church in 1905. Later he became a member of the Mt. Gilead Christian Church where he served as Sunday School superintendent for many years.
The children of Daniel and Dora (Alexander) Lee included: INFANT born and died c/1892; JOSEPHINE/JOSIE LEE b. 1894 m. (1) Joseph Albert Dake 1912 (2) Everett Lea 1921; WILLIAM SAMPSON LEE 1898-1976 m. Nora B. Lawson 1921; MARY ELSIE LEE 1901-1946 m. Lem Jones 1918 (son of John Marshall Jones and Mary Louella Smith); JAMES CLARK LEE 1904-1945 m. Anna Irene Helton 1928; ANNA EUNICE LEE 1906-1992 m. (1) Manley M. Dake 1924 (2) Oliver Pendleton 1944; DOLLIE MARSHIE LEE 1909-1992 m. Truman P. Shelton 1929; INFANT born and died 1914; and NANCY MADGE LEE 1915-1998 m. Walter Wayne Humphrey 1932.
Daniel Thomas Lee, who was living in the Alder Springs community, died on July 27, 1933 at the age of 67 years. His funeral services were held at Mt. Gilead Church by Rev. Neddie Sooter. According to his obituary, he was "buried in a small cemetery on the old homeplace near High Knob". For many years it was called the Lee Family Cemetery but has been inventoried today as Pankey Cemetery. High Knob was a country store/creamery, which was operated by a man named Lee for 15 years and I suppose it may have been Daniel who was the proprietor of the old storehouse/creamery. Dora Alexander Lee, Daniel's wife of 43 years, remained his widow for 20 years and died on August 25, 1953. She was buried at Lee/Pankey Cemetery beside Daniel.

DeVere,
I am offended when I see people, such as this "Mitch" fellow, refer to anything with a religious theme that might appear on the Rootsweb List sites as SPAM.......Several years ago, in 1982, I researched and wrote an article for a couple of newspapers which tied together genealogy and the Bible.........I'm sending it to you to put on OUT OF THE PAST and anywhere else you care to place it........
============================================
How far into the past do your trace your ancestral lineage? Six, seven, perhaps eight generations? Many folks spend a lifetime trying to delve into the past history of their families and are successful in obtaining a few clues (perhaps even into the 11th or 12th generations--an amazing accomplishment)........
The most remarkable genealogy of all history is recorded in the Bible. One of the principal purposes of the Book of Genesis is to trace the ancestry of Israel back through important stages to Adam. The Book of Genesis also contains at least ten very important and detailed genealogical tables. But the most significant genealogies in the Bible are found n Matthew 1:1-17 and St. Luke 3:23-28 which list the genealogy of Christ. The Book of St. Matthew records the ancestors of Christ back to Abraham, but in St. Luke there are 74 generations recorded from Adam to the birth of Christ.
These two seperate genealogical records do not coincide with one another except in a few instances. This has been explained that both genealogies are for Joseph, the earthly father of Christ. St. Matthew shows Joseph's lineage as a legal successor to the throne of King David. St. Luke records Joseph's private genealogy showing why he was an heir to Solomon's crown.
It is believed that Mary, the mother of Christ, was a cousin to Joseph, her husband, and therefore both earthly parents were descended from the same ancestral lineage, which included Solomon, David and Bathseba, Boaz and Ruth, Judah, Jacob, Isaac, Abraham, Enoch, Seth, and Adam.
As you can see, the importance of genealogy as a "book of generations" goes back to the beginning of recorded time and should continue to be recorded for as long as mankind shall produce new generations.
Peggy Smith Hake

Martha Moss-Alexander Family
by Peggy Smith Hake
Martha Moss was born near Greencastle, Putnam County, Indiana in January 1841 (per the Miller County census of 1900). She was a daughter of Ransom Moss and Delilah Love. Ransom Moss (b. c/1812 Indiana) and Delilah Love (b. c/1814 in Kentucky), were parents of several children including: DAVID MOSS 1833-1872; MALINDA MOSS b. c/1836 m. W. Cunningham; WILLIAM MOSS b. c/1839 m. Catherine Boswell; MARTHA MOSS b. 1841 m. (1) J. E. Alexander (2) James Smith; and ELIZABETH MOSS b. c/1846 m. John Russell.
Martha Moss married J. E. Alexander in Indiana, probably in the late 1850s. According to the 1900 census of Miller County, she was the mother of 12 children, but only 4 were living in 1900. After the death of J. E. Alexander, Martha married James Smith in Indiana. I was only able to find the names of four children of Martha Moss Alexander-Smith and they were: FREDERICK/FRED ALEXANDER b. c/1865 (never married); HARRISON/HARRY ALEXANDER b. c/1867 (never married); WARREN ALEXANDER (1870-1953) m. Louisa Jane Johnson; HESTER SMITH b. 1881 m. John Smith.......the identity of the other 8 children are unknown at this time. It is very likely some died in infancy or childhood.
Martha and her family do not appear in the 1880 census of Miller County, so they must have made the move from Putnam County, Indiana to Miller County, MO sometime between 1880-1900. In 1900, they were living in Richwoods township, east of Iberia, near the families of Russell, Groves, Thompson, Hopkins, Thomas, Willis, and Atwell. In the 1900 census, Martha is listed as a widow so I do not know if she came to Miller County after the death of her second husband, James Smith. Her sister and brother-in-law, Elizabeth and John Russell, were living in the same general area of Richwoods township, so it is likely Martha came to central Missouri to be near them...........I do not know when nor where Martha died. There is no record of her burial in any of the inventoried cemetery records of Richwoods township. Her daughter, Hester (Smith) Smith and husband, John Smith, moved to Oklahoma after the turn of the 20th century, so there is the possibility Martha may have gone to live with them and perhaps died in Oklahoma.
Warren Alexander, son of Martha Moss and her first husband, J. E. Alexander, was born in Indiana on 15 Nov 1870. He married Louisa Jane Johnson (1870-1953), a daughter of Samuel and Lucinda Johnson of Linn Creek, MO (Camden County). No record of their marriage is found in Miller County records, so they were probably married in Camden County. Their children included: ARTHUR ALEXANDER b. 1891 (never married); BERTHA ALEXANDER b. 1893 m. Leslie Long; STELLA ALEXANDER b. 1896 (no record of a marriage was found); RANSOM ALEXANDER b. 1898 m. Sylvia Alice Whittle; DEWEY E. ALEXANDER b. 1900 (no record of a marriage was found); DEMA ALEXANDER m. (1) Cochran (2) Rufus McCoy; LELA ALEXANDER m. Ernie Edwards; EATHER ALEXANDER m. Virginia_________; and an infant died in the 1890s.
NOTE: I have four granddaughters (great grandchildren of Ransom Alexander and Sylvia Whittle) who are the 6th generation descendants of Martha Moss and her first husband, J. E. Alexander. I have another connection to this family through the marriage of Martha's daughter, Hester Smith, to John Smith of Iberia. There was no kinship between John and Hester......she was descended from a Smith family of Indiana and John was descended from a Smith family of Pulaski County, MO and Kentucky. John Smith was a brother to my grandfather, Frank Smith, who were sons of William Harrison Smith and Lucy Ann Gardner of Iberia.......(Peggy Hake)

Rock House-Osage Indians
by Peggy Smith Hake
Many years ago, before the white man arrived, Miller County was inhabited by the Osage Indian tribes. They lived mainly along the basin of the Big Tavern Creek, which was rich in vast forests and was plentiful with game and wildlife. It has been recorded that in 1822 an Indian village was located near the Barren Fork of the Big Tavern Creek. Evidently there were members of the Osage tribe who also settled north of the Osage river and lived close to the creeks and tributaries of the mighty Osage.
The Osage were the tallest tribe of Indians in North America, often reaching a height of 7 feet. Their proper name was Waszhazhe. but the French traders derived the name Osage from their original pronunciation and it has remained Osage for over 2 centuries.
Perhaps the most famous of the Osage Indians in the Miller County area was a man named Jim Henry. I am assuming he had a tribal name of the Osage language, but was dubbed Jim Henry by his white friends who homesteaded in the new frontier of Missouri territory. He was probably the last of the Osage tribe to live in Miller County and he was so popular that his name remains today in our county's history.....a township, creek, church, and a school were named for him.
Jim Henry, his wife, and children lived in a remarkable, natural stone house built by Mother Nature. Today it still stands on a hillside, in Jim Henry township, overlooking a beautiful green meadow and Highway 17 can be seen about one-half mile to the west.. I visited this old stone cave a few years ago and was astounded at my first glimpse of this rock home, which is nothing more than an enormous, freak rock formation sitting atop the hillside. The residents of Jim Henry township refer to it simply as "The Rock House". It is approximately 60 feet in length, is circular in shape and is approximately 25 feet high. With animal skins stretched over poles and used as walls to hold out the winter's cold, I could easily see how this Indian family lived comfortably in their 'rock house'.
What happened to Jim Henry and his family is unknown. They disappeared from Miller County sometime in the time era of the late 1830s or early 1840s and were never heard from again. In 1854, a man named Samuel Greenup patented the land on which the 'Rock House' was located and since that year, various families have owned the land including the families of Martin, Fowler, Winters, Tellman, Johnston, Albertson, and for the past few years has been the home of the Schulte family..........As I left the hillside, where stands that unique, beautiful "House of Stone", my one thought was simply this....."Oh! if only those ancient walls could talk!"

Maude Gardner
by Peggy Smith Hake
Maude Anna Gardner was born in Miller County near Iberia on December 30, 1883. She was a daughter of John M. Gardner (1856-1922) and Mary Helton (1861-1940). John and Mary married 28 March 1878, the marriage performed by Rev. John H. Aust. John and Mary were parents of six children including:
1. Henry Monroe Gardner 1879-1966 m. Effie Jane Maxwell 1899
2. James E. Gardner 1880-1959 m. Ollie Shackleford 1911
3. Maud Anna Gardner 1883-1974 m. Charles Edward Shockley 1900
4. William W. Gardner 1886-1887
5. Nettie E. Gardner 1888-1890
6. Fred Gardner 1892-1963 m. Emma Doubikin 1914
Maud Anna Gardner was a granddaughter of Henry Pauling Gardner and Elizabeth (Bailey), natives of Barren County, Kentucky who came to Miller County and settled north of Iberia in the early 1840s. The Gardner family came to Miller County with other Barren County families including the Baileys, Wheelers, Stones, Shacklefords, and Allens.
Maud Anna Gardner married Charles Edward Shockley in Miller County on April 4, 1900, their marriage performed by John H. Aust, minister, who also married Maud's parents in 1878. Charles Edward, born 5 June 1876, was a son of John Shockley and his second wife, Lucinda Holeyfield, who married June 6, 1875. John Shockley was the father of at least 11 children born to his two wives.
Children of John Shockley and Mary Birdsong (m. 1851):
1. Mary Josephine Shockley b. c/1854 m. Joseph B. Blankenship 1874
2. Livonia Isadora Shockley b. c/1856 m. Eugene Dayton 1886
3. Cornelia W. Shockley b. c/1858—d. before 1880
4. Cordelia Catherine Shockley b. c/1866 m. Eugene Dayton 1885
NOTE: Evidently Cordelia died c/1885 because Eugene Dayton married her sister,
Livonia in 1886.
Children of John Shockley and Lucinda Holeyfield (m. 1875)
5. Charles Edward Shockley 1876-1960 m. Maud Anna Gardner 1900
6. Joel W. Shockley 1878-died young
7. Georgia Alice Shockley 1879-1961 m. Jay Adams
8. Annie Lee Shockley 1882-1970 m. John Walter Doubikin
9. Pearly A. Shockley 1883-1926 m. Laura E. Shackleford 1913
10. Stella Maud Shockley 1885-1965 m. Dr. Ronald Marshall
11. Joseph Hockley 1886-died young
Maud (Gardner) and Charles Edward Shockley were parents of four children, two daughters and two sons, all born in Miller County. They were:
1. Mary A. Shockley 1901-1939 m. James Irvin McDonald
2. Roy Shockley b._______
3. Herman Shockley 1907-1990 m. Cleo Humphrey
4. Edna Shockley b._______ m. _______Massey
In 1900, when the census was taken in Miller County, Charles and Maud were a newly-wed couple living in Richwoods township near the families of Denton, Shackleford, Setser, Hedges, Humphrey, Irwin, Wilson and Pilkington. In their home were three of Charles's younger sisters and brother: Annie Lee, Stella Maud and Pearly A. Shockley.
Maud and Charles Edward had been married for almost 60 years when he died in February 1960. She remained his widow for 14 years and died at the age of 90 years on 22 Aug 1974. Both are buried at the Iberia Cemetery. The Shockleys were members of the Iberia Assembly of God Church. When she died in 1974, Maud was survived by 3 children, 10 grandchildrne, 24 great grandchildren, and 1 great, great grandchild.

JOHN WAITE
by Peggy Smith Hake
John W. Waite was born near Georgetown, Brown County, Ohio on 5 December 1845. He was one of nine children born to Noah Jefferson Waits/Waite and Rebecca A. Parker. The Waits/Waite family was of Welsh descent and while the family lived in Ohio, their name was spelled Waits. Later the spelling became Waite and has remained so for many years.
The children of Noah Jefferson and Rebecca (Parker) Waite were: John Waite, David Waite, Lydia Jane (Waite) Bradford, Patience Waite, Thomas Waite, Lyman and William Waite (twins), Anne Waite, and Isaac Newton Waite.
During the Civil War, when only a teenager, John W. Waite enlisted in Company C of the 48th Ohio Volunteers Infantry and served at several battle scenes, including the famous battle of Shiloh.
On 15 January 1870, at the age of 25 years, John married Elizabeth Ellen Caroline Reed in Claremont County, Ohio. Always known as Ellen, she was born 24 April 1853. Ellen was a daughter of John K. Reed and his first wife, Sarah Burdsall. Her mother died when Ellen was a small child and she was reared by some of her kinfolk. She had a brother, George Hamilton Marcellus Reed, who was only a baby when their mother died. John K. Reed was married several times following the death of his first wife and fathered more children. He came to Miller County and stayed for a short while, but then moved on to southwest Missouri and lived near Ava, in Douglas County.
John W. and Ellen (Reed) Waite came to Miller County about 3 months after their marriage in 1870 and settled in Richwoods township, north of Iberia, near the families of Burks, Aust, Fancher, bond, Denton, Shackelford, Forrester, Ponder, Short, Gardner, and Wheeler.
Their ten children were all born in Richwoods township. The five sons and five daughters were: OSMOND MARCELLUS b. 1871 m. Mabel Jones; ALVERETTA/ETTA IONA b. 1873 m. Samuel Livingston; CORA BELLE b. 1875 m. Henry Livingston; CHARLES RUTHERFORD b. 1877 m. Mila York; ARTHUR GARFIELD b. 1880 m. Della Bond; ELMER SHERIDAN b. 1883 m. (1) May James (2) Alpha Apperson; HESTER ANNA b. 1886 m. Martin McNeal; MILDRED ESTELLA b. 1889 m. Wesley Livingston; OLIVE ETHEL b. 1892 m. Frank Livingston; and JOHN WALTER b. 1896 m. Georgia Harper.
For 12 years, John W. Waite was county surveyor of Miller County. His terms of office were from 1889-1896 and then from 1905-1908. He was also a country schoolteacher for several years, teaching in many of the area schools of Richwoods township. He proudly served as a member of the G.A.R. (Grand Army of the Republic) and took an active part in their encampments and parades in the Iberia area.
John Waite died at the age of 83 years on 22 November 1928. He was survived by his wife, Ellen, with whom he had spent 58 years of married life on their Richwoods farm. All ten children survived their father also. His services were conducted by Rev. E. H. Pontius of the Iberia Methodist Church and he was buried at Livingston Cemetery. Ellen Reed Waite lived until July 22, 1934 and was laid to rest beside her husband at Livingston.
NOTE: The above information was acquired from an obituary of John W. Waite and the private writings of his daughter, Ethel Waite Livingston. Ethel succeeded a goal that more people should try to accomplish.....she recorded a small history of her family and also one for her husband's family before her death. I am fortunate to have a copy of her family histories........they are priceless gems for her descendants.

Three Brown Schools
by Peggy Smith Hake
There have been three different Brown schools of eastern Richwoods township that existed during the latter part of the 19th and part of the 20th century. The original Brown school was designated School #1, Township 39 Range 12 of Miller County. It was located in northeastern Richwoods township near the Maries County boundary line. Old Brown school was a small, one-room building which sat near Greasy creek, west of present-day Highway 42. It sat on land that was owned for many years by the Hannah family.
According to Harry Patterson (now deceased), who attended the school as a child, the second Brown school was built east of Hwy. 42 . The country road is known today as Faith Tabernacle Road. It was a frame building and was still in existence in the 1990's. It is no longer standing on the original site, but several years ago was moved a few miles over on Weimer creek and became part of the dwelling place that was owned then by Ted and Reba (Morrow) Luebbert.
The third Brown school was built alongside Hwy. 42 on the west side of the road. It was a two-room, native stone building and was used until the Iberia school system consolidated all the country schools in the late 1950s. Today the third Brown schoolhouse has been converted into a private home.
I was fortunate to have access to the old school records. Before his death, Mr. Patterson let me borrow the old books to obtain information. The books covered the years from 1892-1897. I was so thrilled to find that my grandmother, Eliza (Boyd) Smith, was a student at the old log school during 1896 and 1897. Some of her brothers and sisters also
attended the school during those years. They moved to Oklahoma Territory in 1897 so the family was only found in the school records during 1896 and part of 1897.
Much of the old record book was illegible because of faded ink and crumbling pages, but I did learn a great deal from those old pages.....The name of the record book was "The Standard School Register". On the cover, written in faded ink, were the words, "This Book is the Property of School District #1 in Township 39 Range 12, Miller County, Missouri". The register was for use in all primary and graded schools in the state of Missouri during the years of the late 19th century.
I am certain the students during those years of the late 1890s were attending the first Brown school, built of logs, sitting near Greasy creek. I have seen a picture of the old school and it plainly shows the logs with chinking between the cracks. Some of the teachers listed in the old record book were Lillie Duncan 1892; Charles Messersmith 1895; George Palmer 1896; and Lee Wilson 1897. I couldn't find the name of the teachers who taught in 1893 and 1894.
The list of textbooks used to teach the students in the 1892 included McGuffey's Speller, The Franklin Reader, Hyde's Grammar, Ray's Arithmetic, Butler's Geography and Burn's History. These wonderful old books would be treasures to own today!
There were many students listed in the Register over the five-year period of time. They ranged in ages from 5 years to 20 years. Some had good attendance, but many had days and weeks of absences. It is understandable when you consider many had to walk for miles, round trip, over all sorts of terrain and through all kinds of weather conditions, not to mention the various kinds of illnesses which could attack at any time.
It is always interesting to read the names of our ancestors who attended the country schools of yesterday. The following is a list of families who had children attending
Brown school in the late 1890s..........Burns, Barnhart, Brandon, Boyd, Goff, Grosvenor, Hickey, Lawson, Lee, Montgomery, Pendleton, Palmer, Rowden, Renfrow, Shaner, Shelton, Shephard, Sherrell, Stout, Whitaker, Wilson, and Williams.

John Whittle Inquest
by Peggy Smith Hake
COSTS FOR AN INQUEST INTO THE DEATH OF JOHN A. WHITTLE IN 1886 (MILLER COUNTY, MISSOURI)
In 1886, Squire John Ferguson of Iberia presented the Miller County Court a certified bill of costs that had accumulated in the matter of an inquest conducted on the body of John A. Whittle, born 1856, a son of Peter J. Whittle and Serilda (Hoskins) and husband of Martha (Keeth) Whittle. John was a victim of a gunfight,
which had occurred at the old Pleasant Hill church (once called Peakey Church) in southwest Richwoods township.
Charles D. Martin was the acting coroner and a justice of the peace in Richwoods township. He presented his bill, which included the following:
Viewing the body $5.00 Warrant for the jury $ .75
Swearing in of the jury .50 3 subpeonas @ .25 each .75
Swearing in of 10 witnesses .50 Recognizances of witnesses .75
Writing evidence of
3500 words 4.00 Writing this transcript 1.50
12 miles travel attending
inquest .96 Certificate to transcript .15
TOTAL COSTS....................$14.86
Special Fees for Constable Dial (William Lewis Dial):
Summoning the jury $1.00
Subpeona of 12 witnesses 3.00
12 miles travel .60
TOTAL COSTS.....................$ 4.60
Physician and Surgeon's Fees:
John L. Short, M.D. $ 5.00
George W. Curtman, M.D. 5.00
TOTAL COSTS.....................$10.00
Jury Fees:
William Short 2 days $2.00 Thomas J. Shelton 2 days $2.00
William H. Jones 2 days 2.00 John T. Wells 2 days 2.00
George W. Lawson 2 days 2.00 James Richards 2 days 2.00
TOTAL COSTS.................... $12.00
Cont'd on next page............
Witnesses Fees:
Wm. R. Wright 2 days $1.50 Robert Whittle 2 days $1.50
Zebedee Bourne 2 days 1.50 James Davidson 2 days 1.50
Henry Keeth 2 days 1.50 Riley Keeth 2 days 1.50
John Smith 2 days 1.50 Simon Keeth 2 days 1.50
Peter Allen 2 days 1.50 George Winfrey 2 days 1.50
TOTAL COSTS.........$15.00
TOTAL COSTS AND FEES FOR INQUEST..............$56.46
NOTE:
A paragraph about this murder case appears in the 1889 book, GOODSPEED'S HISTORY OF COLE, MONITEAU, MORGAN, BENTON, MILLER, MARIES, AND OSAGE COUNTIES, MISSOURI. According to the book, a fine of $500 was leveled against the accused, but was finally remitted by Missouri's governor.

Rebecca Lea (Perkins)
In October 1949, Iberia's oldest citizen, Mrs. Rebecca Lea, was honored on her 94th birthday. "Grandma Lea", as I remember her, lived on to almost reach her 101st birthday when she died in March 1956. The newspaper report said her "memory is good and she can recall days of long ago."
Rebecca S. Perkins was a daughter of Andrew Jackson Perkins and his wife, Mary Jane. She was born in Maries Co., MO on 8 Oct 1855. She was one of several children born to the Andrew and Mary Jane. Her brothers and sisters included Arzula (Jones); L. Eliza (Lawson), Paralee (Whalen), Eva (Agee), Russell Perkins, Robert Perkins, Melvin Perkins, and Lewis Perkins. There may have been other children who died young. The above names were listed in a 1926 probate record as heirs of Andrew Jackson Perkins.
On Jan. 30, 1876, Rebecca S. Perkins married Robert O. Lea in Maries Co., MO. They lived there for a few years and eventually moved into Miller County, locating near Iberia. She and Robert had five children:
1. Dora Elizabeth Lea 1881-1936 m. William Pickering
2. Charles A. Lea (later lived in Montana)
3. Mary L. Lea 1877-1951 m. Richard M. Pankey
4. Laura J. Lea 1888-1970 m. William W. Dake
5. Albert A. Lea 1886-1898
Rebecca's husband, Robert O. Lea, was born 19 Apr 1857, a son of Alexander and Elizabeth Lea, natives of Illinois and Alabama, respectively. Robert preceded Rebecca in death when he passed away in October 1925. Both Rebecca and Robert are buried at Brays Union Cemetery, northeast of Iberia.
Grandma Lea was one of those marvelous pioneer ladies who reared her children, kept her home a safe haven, worked beside her husband, and still had time to make hand-woven counterpanes, home-made blankets, and hand-quilted patchwork quilts which became prized family heirlooms.
NOTE: When I was about 2 years old and my brother was an infant, my parents lived in the home of "Grandma Lea". This would have been about 1937. They lived in the upstairs area of the Lea's 2-story house in Iberia. I was too young to remember when we lived in her home, but I have heard my mother speak so kindly of her. She had granddaughters living with her at the time (Lucy and Ollie Pickering) and all three women took turns spoiling my brother and myself, per my mother! Today I can barely remember "Grandma Lea", but I remember Lucy and Ollie Pickering so vividly as I grew up in Iberia. Neither one of the women ever married. Ollie died in 1965 and Lucy lived until 1996........

Ruth Clark Boyd
by Peggy Smith Hake
Ruth Clark Boyd was my great, great, great grandmother who came to Miller County in the 1830s from Greenup County, Kentucky. She was the wife of James Boyd who was also from Greenup County. James was a son of Phillip and Sarah Boyd of Eastern Kentucky. I have been to Greenup County, Kentucky on two occasions to do research and was able to find some interesting information concerning my ancestors.
When Ruth and James Boyd came to Miller County, they settled in Osage township, south of today's St. Elizabeth. Ruth was a sister to John P. Clark (also known as 'Hoppin' Clark). John and his wife, Elizabeth/Betsy (Farmber) Clark also came to Miller County from Greenup Co., KY about the same time as the Boyd family and all settled near one another in Osage township. From research conducted in Greenup County, I believe the parents of Ruth (Clark) Boyd and John P. Clark were John Sr. and Susannah Clark. After the death of John Sr. (in Kentucky), Susannah married Robert Boyd, a brother to James Boyd and they are the ones who came to Miller County with Ruth and James Boyd.
Ruth Clark Boyd and her husband, James, were parents of several children including:
1. Sarah Boyd b. 1830 KY m. Dr. Charles O. Curtman 1852
(she died as a young woman at the birth of her third child)
2. Susannah Boyd b. 1831 KY m. Thomas Hampton 1853
3. Lydia Boyd b. 1833 MO m. Thomas Goff 1859
4. Greenville Boyd b. 1836 MO m. Jane Freeman 1856
5. Robert Boyd b. 1838 MO m. Martha Jane Clark 1860
(Robt. died when he was about 25 years old)
6. Rhoda Boyd b. 1840 MO (no record after 1850)
7. Sidney Boyd b. 1844 MO (no record after 1860)
8. James Boyd Jr. b. 1847 MO (no record after 1870)
James Boyd died in Miller County in the late 1850s and in 1862, widow Ruth Boyd married Thomas Mills. In the Miller County Associate Probate Court are estate records for Ruth Clark-Boyd-Mills including her will and other legal instruments. She died in April 1869 and shortly before her death, she made out her last will and testament naming her son, Greenville, as her only heir. She had two daughters living at the time (Lydia and Susannah), but apparently, for some unknown reason, she cut them out of her will......I am sure there is a story within a story of this situation, but at the present time, one can only speculate.
It is believed that Ruth Clark-Boyd-Mills is buried at an old family cemetery in Osage township. Today it is known as the Wickham Cemetery, located on land owned by Floyd & Edith (Wickham) Johnson. There is no tombstone to mark Ruth's grave so it is only family legend that she is buried there. There are many unanswered questions concerning our ancestors, and I suppose it is just as well that we do not always know the real stories because time takes care of many family secrets, feuds, misunderstandings, etc...................